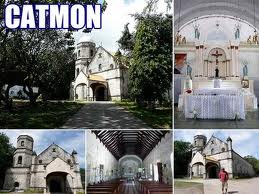 Catmon is a 178-year-old town located north east of Cebu city. It is 57 kilometers away from Cebu city. It is bounded by the municipalities of Sogod, Carmen, and Tuburan on the north, south, and west respectively. On the East is Camotes Sea. Catmon is largely mountainous and hilly with patches of flatlands predominantly in the coastal area. It has a total land area of 11, 152 Hectares and consists of more than 30,000 settlers.
The name Catmon comes from a tree species that used to grow abundantly in the municipality. Legend has it that when a group of Spaniards came upon some men resting under a big Catmon tree, the leader asked what was the name of the place. Thinking that the Spaniard was asking for the name of the tree, one answered "Katmon". And so it was that when the town was established in 1835, it was named Catmon.
The town was founded by the Agustinian Recollects from its native settlement site along a river. Catmon, a small happy community, has deep roots in religion, subsistence agriculture and education. Catmon celebrates its annual fiesta every February 10 to honor SAN GUILLERMO DE AQUITANIA. Its annual BUDBOD KABOG FESTIVAL promotes the delicacy made from a species of millet that thrives in Catmon's semi-arid weather.
Catmon has 20 Barangays which are listed below: